Full disclosure: On a spectrum of lame to cool, I'm probably the least trendy person I know. What can I say? I like my capsule wardrobe basics as much as my neutrals but that all changes once I don the edgiest piece of clothing in my wardrobe: my weathered, faux leather jacket.
So when I saw that the biker fashion trend was projected to be huge this season, I raised a brow and thought to myself, could this be the year that I venture out and live my cool girl dreams? With celebs like Bella Hadid, Kourtney Kardashian, and our lord and savior Dua Lipa bringing bikercore to the forefront with a Y2K twist, I'm seeing vintage graphic tees, chunky zippers, and studs every time I open my Instagram feed. If you're looking for moto-chic pieces to shop (without going full Harley Davidson), look no further. Here are 10 items that'll add a bit of bikercore edge any basic outfit:
Vionic Shoes
If there's one thing I'm forsure adding to my cart this year after what feels like a decade of contemplating, it's a sturdy pair of lug sole boots. These ones from Vionic Shoes are waterproof, on-trend, and known to be some of the most comfortable on the market (incredible arch support, for the win!), and pairing them with jeans, a dainty dress, or trousers is an easy way to bring a sophisticated edge to whatever you're wearing.
3 colors available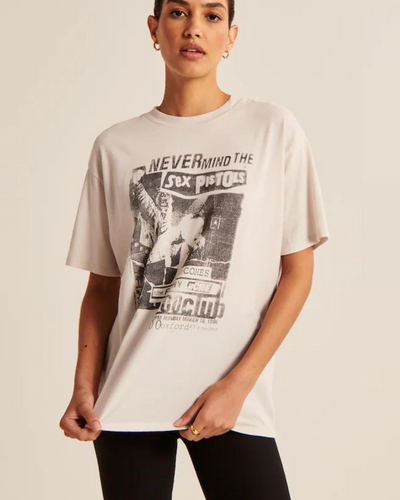 Abercrombie & Fitch
"Oh, you listen to The Sex Pistols? Name one of their songs." While their discography remains a mystery to me (sorry, world), I have to hand it to them—they look damn good on a graphic tee. I love this one from Abercrombie & Fitch because it's oversized, and, with a pair of distressed jeans and chunky leather boots, it offers the perfect opportunity to dip your toes into bikercore fashion (and doubles as a comfy sleep shirt).
3 colors available
Good American
The faux leather legging to faux leather pant pipeline is real, and these ones from Good American will serve you well from fall to winter and beyond. If you're looking to make a statement from the waist down, these ones are the perfect way to ease into biker-girl fashion without going overboard.
2 colors available
PacSun
Patchwork and worn denim are iconic bikercore staples, and this denim shacket from PacSun fits the bill. It's giving Route-66 chic, and pairing it with a studded leather bag is the Trader Joe's, running-errands fit that I didn't see coming.
Ray-Ban
If there's one way that celebs have tackled the bikercore trend with a fresh twist, it's by adding Y2K pieces and silhouettes that are, to be frank, a bit out of my comfort zone. We've been seeing a lot of the "gas station shades" on stars like Kim K. and Dua Lipa, and paired with biker-chic staples like leather bomber jackets and patchwork, it gives a fashion-forward take on an iconic classic. I love that these ones from Ray-Ban will help me nail the concept without going full "stare-at-me" neon. Bonus: They'll also give me the hint of Gen-Z that I'm looking for.
Mango
These studded jeans from Mango offer a muted statement if you're looking to switch up your denim game and try something new. Silver studs are a must if you're easing into the world of biker chicness, and the relaxed fit gives off the ultimate cool-chick vibe. Pair with lug sole boots, a vintage graphic tee, and a bomber jacket for an on-trend, model-off-duty look.
The 9 Fall Fashion Trends That Are Going to Dominate 2022

This post contains a sponsored inclusion of Vionic Shoes but all of the opinions within are those of The Everygirl editorial board.