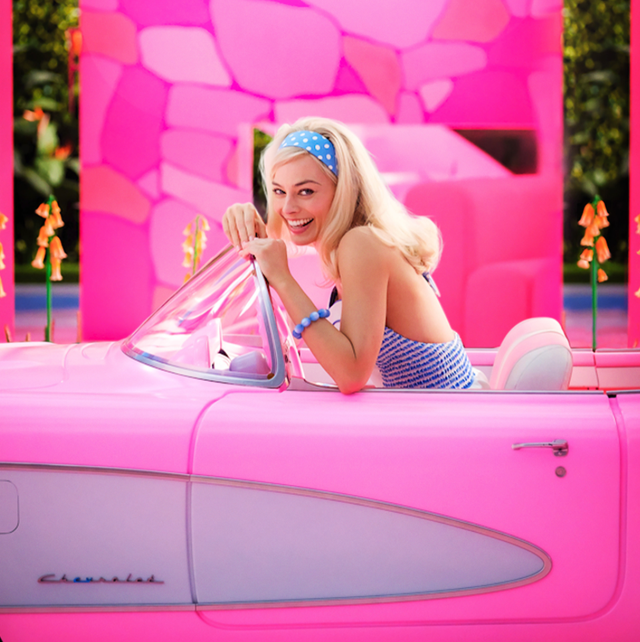 IMDB/Warner Bros
While we may have to wait until 2023 for the release of the Barbie movie starring Margot Robbie and Ryan Gosling, Barbiecore is already here, and I'm obsessed. If you're confused about wtf Barbiecore even is, the aesthetic is all about hot pinks, sparkles, and fun accents like feathers and rhinestones that channel everyone's favorite doll. And while the Barbiecore trend definitely draws inspiration from the upcoming Barbie movie, you can also dig out your old collection of dolls for some inspo too. Some Barbiecore outfits even draw on the Y2K trend, so you can really lean into the nostalgia factor in more ways than one. But as celebs like Lizzo and Anne Hathaway have demonstrated, Barbiecore can also be a sophisticated and timeless look.
Barbiecore is really just about having fun with your look, whether you're headed out for drinks, going to the office, or setting off on an international adventure. You can go full Barbie with a head-to-toe hot pink 'fit, or just add a little sprinkle of Barbiecore with a fun pair of earrings or a mini-bag. Basically, think about what your look would be if you were part of the BCU (that's Barbie Cinematic Universe, obviously).
Here's everything you need to start rocking the Barbiecore fashion trend.
Advertisement – Continue Reading Below
1
These pink flare pants
Hot Pink Crinkle Rib Cut Out Side Detail Flared Pants
2
This hot-pink romper
Karen Wrap Romper
This bright pink romper is definitely something Barbie would wear to get a drink with Ken.
3
This athletic dress
Charmed Tennis Dress
Can't you see Barbie hitting the tennis court or golf course in this fuchsia dress?
4
This neon swimsuit
Women One-Piece Monokini Zipper Front High Waist Thong Swimwear
This bright swimsuit is the perfect thing for your Barbie beach day. Bonus: you could wear it with some neon spandex shorts and roller blades for another one of Margot's movie Barbie looks.
5
These fluffy earrings
Cute Rabbit Fur Pompom Drop Earrings
I will be wearing these pom-pom drop earrings with every outfit until further notice, thanks!
6
These sparkly pink platforms
Square Toe Chunky High Heels
These bright platforms combine both the Barbiecore trend and the Y2K trend, making them a must-have for your closet, obviously.
7
This structured crop top
Katirina Strapless Bustier Crop Top
8
These sunglasses Barbie would <3
Heart-Shaped Sunglasses
Pink + glitter + hearts = these sunglasses Barbie would totally wear.
9
this LPD (little pink dress)
Good American Always Fit Minidress
This stretchy hot pink dress is perfect for everything from running errands to happy hour.
10
these fuzzy slippers
CLF Fluff'd Up Slippers
Barbie is totally wearing these slippers at the next sleepover she hosts, and so should you.
11
these subtle studs
Pink Sapphire Martini Stud Earrings
For a slightly more subtle approach to the Barbiecore look, you could grab these dainty, minimalist earrings made with ethically-sourced pink sapphires.
12
a hot pink mini bag
Anjalee Mini Bag in Pink
I am *obsessed* with this hot pink mini-bag that's basically Barbie-sized.
13
this silky work top
The Drop Women's Christy Cowl Neck Cami Silky Stretch Top
This gorgeous drapey top puts a sophisticated spin on the Barbiecore trend.
14
a '90s accessory
CHOK.LIDS Bubblegum Pink Cotton Bucket Hat
Every closet needs a bucket hat these days, and this hot-pink one has all the Barbie vibes.
15
this party dress
Kaila Dress
Your next big event deserves this feathery, fabulous dress. Barbie would 100% love this.
16
this affordable mini
Baby Flirty N' Thriving Marabou Dress
For a less pricy version of a pink feathery dress, this fluffy light pink dress from Dolls Kill is perfect for Barbie's night out.
17
hot pink PJs
The Short Set in Fuchsia
This luxe matching set is basically made for travel. Barbie would totally wear this on her international adventures.
18
this barbie button-down
Blaze Oversized Relaxed Shirt
Who says you can't bring the Barbiecore trend to your work wardrobe? I might not wear this short open over a satin bra, but uh, maybe your workplace is super relaxed?
19
a fun scrunchie
FUNBOY x BARBIE™ Blake Scrunchie
20
this sexy night out dress
Vinyl Date Night Mini Dress
This wet look dress is very Kim K meets Barbie, and I am totally here for it.
21
this hot pink suit
Feather Trim Suit Blazer
This Barbie twist on businesswear is EVERYTHING. Plus, it's fun enough to wear out for drinks afterwards.
22
a summer pajama set
Women's Short Sleeve Sleepwear Button Down
Barbie would totally rock this set when she had a girls night, and considering it's under $30, she might even snag a few sets to give to her friends.
This content is created and maintained by a third party, and imported onto this page to help users provide their email addresses. You may be able to find more information about this and similar content at piano.io
Advertisement – Continue Reading Below