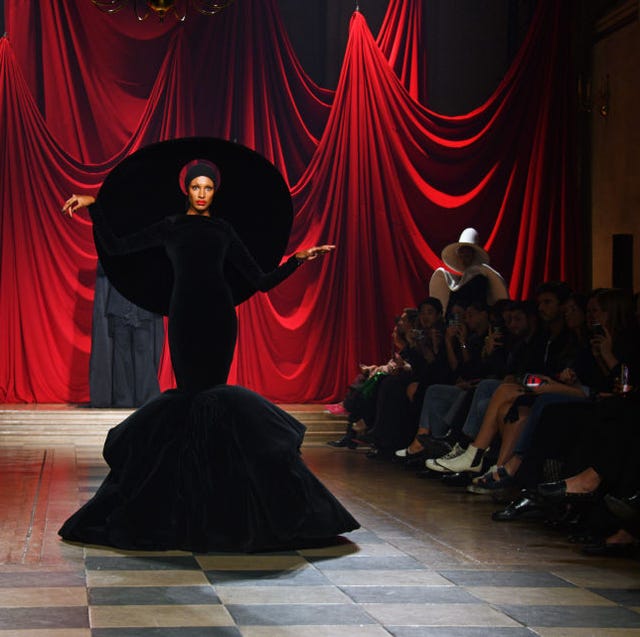 David M. BenettGetty Images
Another season of fashion shows is upon us, as we look to New York, London, Milan and Paris for the spring/summer 2023 collections.
After the past two years of pandemic-related disruptions and cancellations, we're set for a relatively normal month of shows – aside from in London, which coincides with the official period of national mourning, following the death of Her Majesty Queen Elizabeth II. While shows from the likes of Harris Reed, Erdem and Christopher Kane will still go ahead, a number have had to be rearranged due to closures in the capital, particularly on the day of the funeral itself.
In New York, we had Fendi celebrating the 25th anniversary of the iconic Baguette, alongside the latest collections from Michael Kors, Tommy Hilfiger and Tom Ford, while we can look forward to new-season shows from Versace, Prada and Giorgio Armani in Milan, and Dior, Chanel and Louis Vuitton in Paris.
Below, see catwalk highlights from the spring/summer 2023 collections so far:
Advertisement – Continue Reading Below
Harris Reed kicked off London Fashion Week with a gender fluid demi-couture collection exploring the performative nature of fashion and inspired by the dress codes of a debutante ball. Titled Mise en Scène – in reference to the collective team effort that goes into the staging of each collection – Reed's designs took traditionally female tropes and reimagined them for "a new fluid society taking centre stage".
Silhouettes were exaggerated, gowns were upturned and deconstructed, shapes were distorted – and created, as always, from deadstock fabric – while looks were paired with theatrical headpieces (designed with long-term collaborator Vivienne Lake), all set to a haunting soundtrack performed by Adam Lambert.
Trend takeaway: dramatic silhouettes
After opening his show with a solemn tribute to Her Majesty the Queen, Daniel W. Fletcher paid homage to figures past and present who have made London their home – from King's Road punks to Savile Row tailors.
"This influence comes not from a singular time frame or generation, but an amalgamation of a city that continues to weave a narrative that is felt and observed world over," read the show notes.
Bora Aksu presented an "anachronistic dreamscape" for spring/summer 2023, inspired by the works of the writer Henry Darger and the artist Marcel Dzama. The collection explored "the relationship between innocence and perversion, delivering pieces that toe the line between the delicate and the resolute," explained the show notes, as always, putting femininity at the heart of the creative process.
As to be expected, there was glamour galore on the Tom Ford catwalk, which amped up the sparkle and shine to close New York Fashion Week with a bang.
There was metallic tailoring and an emphasis on lace underpinnings, with disco-ready dresses shimmering down the catwalk, while the grand finale saw the Hadid sisters close the show in head-to-toe sequins, with big hair, bigger heels and even bigger earrings.
Trend takeaway: high shine
Michael Kors transported his front-row guests to the ultimate luxury getaway for his 'urban resort' spring/summer 2023 show – a collection of sleek, city styling set against a backdrop of lush greenery.
"Urban resort to me is the best of both worlds, it's the luxury and sleek elegance of city life with the laid-back glamour you find in the best resorts," says Michael Kors. "This collection uses a lot of elements that you normally find on holiday—lots of white, lots of bareness, soft caftans, bare strappy sandals—mixed with the crisp tailoring and polish you need in an urban environment."
There was an emphasis on movement and light, accentuated by shimmering liquid fabrics and high-shine sequins, providing the sort of pared-back glamour for which the brand has become known – designed to be worn in whichever luxurious destination you happen to be jetting off to next.
Trend takeaway: holiday romance
Gabriela Hearst was inspired by the work of the Ancient Greek poet Sappho for spring/summer 2023. A legendary tastemaker whose work was revered by the Greeks and Romans, much of her work has been lost over time and now only exists in fragments.
Hearst paid tribute to Sappho's artistic spirit – which "transcends time" – through a collection that was primarily monochrome with flashes of metallic gold.
When she began researching Sappho, Hearst describes how "images of garments started to appear, and I would draw or paint them on notebooks"."The swirls that I doodle tirelessly and that have become a consistent pattern in our collections, are this time represented in the embroidery and multicolour crochet. I recently realised they represent the wind and air movement."
Trend takeaway: flashes of gold
Fendi opened New York Fashion Week this season with a show celebrating the 25th anniversary of the Baguette – and creative director Kim Jones, along with Silvia Venturini Fendi, enlisted an impressive line-up of collaborators for the occasion: Marc Jacobs, Sarah Jessica Parker and Tiffany & Co.
"I didn't want to do a traditional 'collection' for the anniversary – rather it's a celebration of a time, of the moment the Baguette became famous," said Jones. "I relate that time to a sense of freedom in excess and fun – both qualities the Baguette possesses."
The result was a joyful tribute to the iconic piece – as interpreted by each of the creative collaborators – spanning both clothing and accessories: from classic handbags to minuscule clutches, wristlets, pins and even jewellery.
Trend takeaway: nostalgic it-bags
"The spring/summer 2023 collection is defined by opposing instincts: to experiment freely and to pare everything back," explained Tory Burch, of her Nineties-inspired show which put material and silhouette at the forefront.
Models including Emily Ratajkowski walked the runway wearing luxurious fabrics designed to move with the body in an "exploration of form" – think superfine knits, sporty separates, sculptural tailoring and transluscent layers – all accentuated by clean lines and block colours. "This collection is personal and intuitive, drawing on my memories of the '90s when I moved to New York," the designer continued. "I wanted to look at my signatures with a fresh perspective, reflecting what feels modern now."
Trend takeaway: transluscent fabrics
The Bevza spring/summer 2023 collection was dedicated to designer Svitlana Bevza's homeland of Ukraine.
"In the face of Russia's continued war, Bevza presents a hopeful collection celebrating the country they call home," read the show notes. "The collection is a visual voice from Ukraine today, steeped in war, but continuing the fight for their ancient homeland, and optimistic for the future."
The designer incorporated cultural Ukrainian symbols within the collection: inspiration was drawn from the image of a woman in a field harvesting wheat (the harvest of her homeland) – seen through the brand's signature 'spikelet' jewellery as well as details on dresses – while traditional crochet elements featuring the sacred star motif could be seen throughout, in a poignant display of fragility and strength.
Trend takeaway:
Frances Hodgson's much-loved classic, The Secret Garden, was the starting point for Wes Gordon's latest collection – a beloved book from his childhood – and its romantic depiction of nature and beauty.
"A garden of visual delights, this collection is unabashedly romantic, with oversize balloon sleeves in hand-painted tea roses and peonies and a maximalist verve thanks to matching head-to-toe accessories," read the show notes. Indeed, florals played a central role throughout, from 3D rosettes and brightly coloured prints to sculptural hemlines "that take on lives of their own in movement, like undulating rows of flowers in bloom in abundance".
Trend takeaway: romantic florals
Tommy Hilfiger returned to NYFW this season with the Tommy Factory multiverse experience, featuring both a star-studded catwalk (Ashley Graham, Lila Moss, Winnie Harlow, Julia Fox) and front row (Kate Moss, Kris Jenner, John Legend).
The show, which "blended IRL and URL worlds", was inspired by the legacy and cultural impact of Andy Warhol, and saw a the physical (very rain-soaked) runway, accompanied by a virtual avatar-strewn livestream. The collection itself, which "remixed traditional Americana codes with a contemporary, streetwear-inspired twist", featured everything from the new TH monogram (created in partnership with illustrator and graphic designer Fergus Purcell), to pieces from the new collaboration with London Fashion Week favourite Richard Quinn.

Trend takeaway: sporty streetwear
Jason Wu's latest collection celebrated the joy of dressing up and the post-pandemic rebirth of America's fashion capital, New York City – the place that the designer has called home for 22 years.
In an homage to the great American designers, the clothes were designed to highlight the beauty of each garment's interior through inside-out construction, creating a key detail seen throughout the collection. "People are dressing up again and now every moment is a moment and why shouldn't it be?" said Wu. "If the last two years have taught us anything, it's that these moments are fleeting, and every second should be celebrated."

Trend takeaway: inside-out construction
Jack McCollough and Lazaro Hernandez were inspired by water "as a symbol of life" for their spring/summer 2023 show, with a collection also heavily influenced by their personal histories.
"The sensuous and fiery qualities of Lazaro's Latin roots coupled with the pragmatism and grit of Jack's American experience blend to create a narrative at once effervescent and urban," she show notes explained. The clothes accentuated the contours of the body, with figure-hugging knitwear, ruffles to add volume and fringing to exaggerate movement.

Trend takeaway: high-fashion fringing
Advertisement – Continue Reading Below