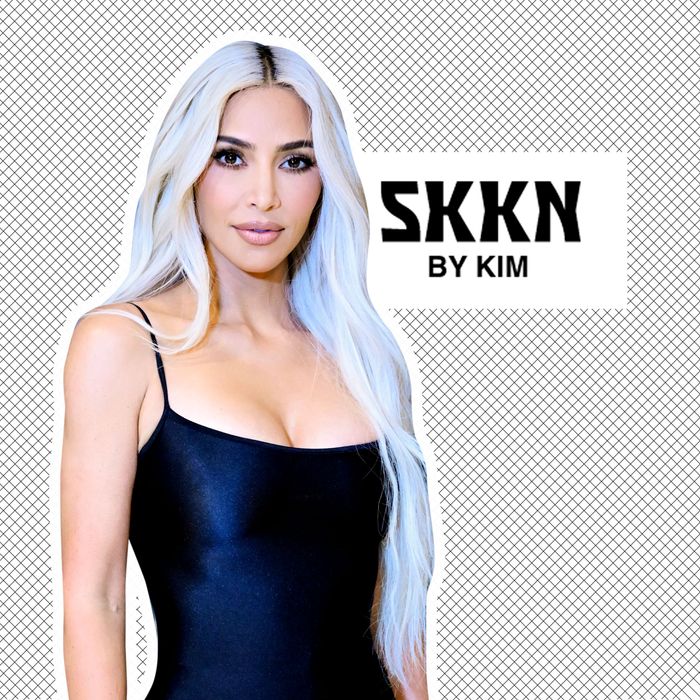 Photo-Illustration: by The Cut; Photos: Getty Images
You know what's in high demand these days? Names for skin-care brands, apparently. Earlier this month, Hailey Bieber was sued after naming her new skin-care collection Rhode by a clothing brand of the same name. And now, Kim Kardashian is facing a similar suit. Her new skin-care line, SKKN, which launched earlier in June, recently became the subject of a lawsuit accusing her of infringing on the trademarked name of a Brooklyn-based Black-owned small business called Beauty Concepts, which provides salon services under the title "SKKN+."
The dispute first surfaced a year ago when Beauty Concepts' founder Cydnie Lunsford sent a cease and desist letter to Kim after her corporation, Kimsaprincess, filed trademark applications for SKKN by Kim and SKKN. According to the letter, SKKN+ has operated under the name since 2018 and filed a trademark application on March 28, 2021 — two days before Kim filed one for SKKN by Kim. (Her application for SKKN was filed a few months later, on July 9.) At the time, Kim's lawyer, Michael G. Rhodes, responded to the letter, telling TMZ that "our hat is off to Ms. Lunsford" but "the question at hand is one of trademark law and we've not done anything deserving of legal action by her," adding that he was "hopeful that we can smooth things over once both sides speak." TMZ also noted that Kim's team "locked down" SKKN.com and @SKKN social-media handles in December 2020.
Now, per TMZ, Beauty Concepts has filed a lawsuit accusing Kim of infringing on its trademarked name. Per TMZ's review of the legal documents, the lawsuit claims Kim's new brand is confusing its customers and that her team ignored the requests it made in its cease and desist letter. The lawsuit also reportedly emphasizes that Beauty Concepts is a small Black-owned business that managed to open up a brick-and-mortar store after surviving the pandemic.
In response, Rhodes released a lengthy statement to TMZ, which called Beauty Concepts' lawsuit a "shakedown effort" and provided his own account of the events: When Beauty Concepts sent its cease and desist letter, it was a "one-person shop offering facials from a single Brooklyn location" with "no signage" and, to his knowledge, "sold no products under the SKKN+ name." Rhodes says his team declined to drop the name after the cease and desist letter, and Beauty Concepts tried to challenge the trademark application at the U.S. Patent and Trademark Office but was rejected under the premise that "'skkn' just means 'skin.'" Rhodes claims his team tried to find a solution several times, but Beauty Concepts kept demanding "a lot of money." He concluded that the lawsuit is "less about the law of trademarks and more about trying to leverage a settlement by threatening to harm Ms. Kardashian's name and reputation."
Speaking of Kim's reputation: Considering her long history of appropriating Black culture, ignoring the requests of a Black-owned brand doesn't exactly come as a shock. Twitter users have also pointed out that SKKN by Kim bears a striking resemblance to the name of Lori Harvey's skin-care line, SKN by LH.
This isn't the first time Kim has been asked to rename one of her business endeavors. In 2019, the city of Kyoto urged her to rethink naming her shapewear brand Kimono, explaining the cultural significance of the garment. Sounds like it might be time to get her ass up and think of a new name?